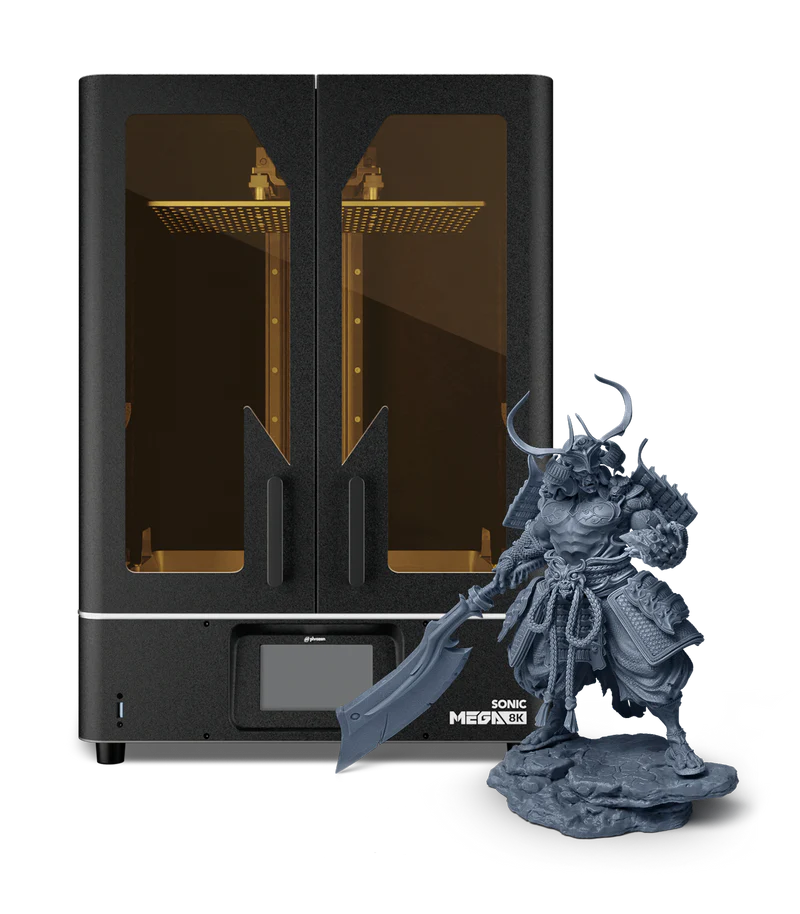 Sonic Mega 8K - The ONE & ONLY 8K 3D Printer
With its significantly large size and staggeringly high precision printing capabilities, Sonic Mega 8K allows you to effortlessly create large-scale prints with astonishing 8K resolution.
This product is now out of stock, if you are interested in purchasing the Sonic Mega 8K, please refer to our resellers page.
Phrozen's most daring and audacious piece of work is finally here: Sonic Mega 8K. In the past, printing out large models meant compromising on print quality. If anyone was interested in printing out large-scale & detailed models, that meant printing out multiple batches of 3D printed parts and assembling them together.
Not Anymore. Sonic Mega 8K breaks every single limitation for commercial 3D printers. You can now have both size and quality in one print, at the same time. From regular table-sized Resin 3D Printed Miniatures to large 3D printing terrain that covers your whole table, or even body armor for festivals such as Halloween, Sonic Mega 8K simply prints out all your ideas with stunning 8K resolution.
Benefits
8K Printing Capabilities

: Sonic Mega 8K trumps all other 3D printers on the market by showcasing striking details at 43µm, producing 3D models that are almost twice as detailed as other large-scale 3D printers. 

15" Mono-LCD Screen:

The largest Mono-LCD printing area on the market with 15." In comparison, the largest printing area was previously only 13.3." 

Huge Printing Volume :

With a 40cm tall Z-axis, Sonic Mega 8K comes with the largest XY printing area, enabling you to print out significantly larger models in one sitting.

Pre-Calibrated Building Plate:

All Sonic Mega 8K building plates will be calibrated perfectly before they are shipped, which means that all you need to do is take your device out of the box and you're all set to begin printing! 

Dual Linear Rail & Ball Screw Design

: For an ultra-stable Z-axis, Sonic Mega 8K adopts this specific design so that large and heavy objects can be printed with no wobbling. 

Full Metal Exterior

: Phrozen Sonic Mega 8K is made completely of metal. This strengthens the entire structure, making it stronger, and much more sustainable for long-term usage.
Specs
System:

Phrozen OS

Operation:

5" in Large Touch Panel

Slicer Software:

CHITUBOX V1.9.0 or above

Connectivity:

Front USB Port |

Ethernet

Design:

Technology Resin 3D Printer - LCD Type

Light Source:

405nm ParaLED Matrix 3.0

Release Film: PFA (nFEP)Film
XY Resolution:

43 µm

Layer Thickness:

0.01-0.30 mm

Maximum Printing Speed:

70 mm/hr

Power Requirement: 

50-60Hz

System Power: 250W
Printer Size:

47.5 x 40 x 68 cm

Print Volume: 

33 x 18.5 x 40 cm

Printer Weight:

35 kg
*All specifications have been tested in a laboratory. Please note that certain specifications may be subject to change without prior notice.
Shipping & Tariff
The purchase price does not include any taxes, tariffs, and/or shipping costs. Please note that we WILL NOT be providing a refund if a customer refuses to collect (or returns) their product(s) due to customs fees/duties and/or other related costs.
Customers will be responsible for customs clearance in all countries except Thailand and Brazil, and 

we will charge you in advance and pay on your behalf for any duties and taxes that are due on products purchased.

Please note that the shipping cost will vary from country to country; for the exact cost, please view our check-out page.

For more information, please refer to our 

Shipping Policy 

page.
Return & Warranty
According to the Consumer Protection Act, you have the option to request a refund within a period of 13 days. However, please note that the refund does not cover the shipping fees and tax/VAT charges. To initiate the refund process, you need to submit a request to the

Phrozen Support Center

within this 13-day timeframe. It is important to ensure that the product is returned in its original condition, and the entire batch order must be sent back. For more details, please refer to our

Refund Policy page

.

All products purchased from the official website of Phrozen are warranted under different terms. Phrozen offers a one-year warranty for all our products except consumables and components; this includes the LCD screen and the FEP film. LCD screens for the Sonic Mighty 8K, Sonic Mini 8K, Sonic Mega 8K, Sonic Mini 4K, and Sonic 4K are covered under a 3-month warranty. For more details, please refer to our



Warranty page

.
*Kind reminder: We would suggest pairing our printers with Phrozen's resins to prevent surface paint damage. If a problem occurs, please feel free to contact our support team.