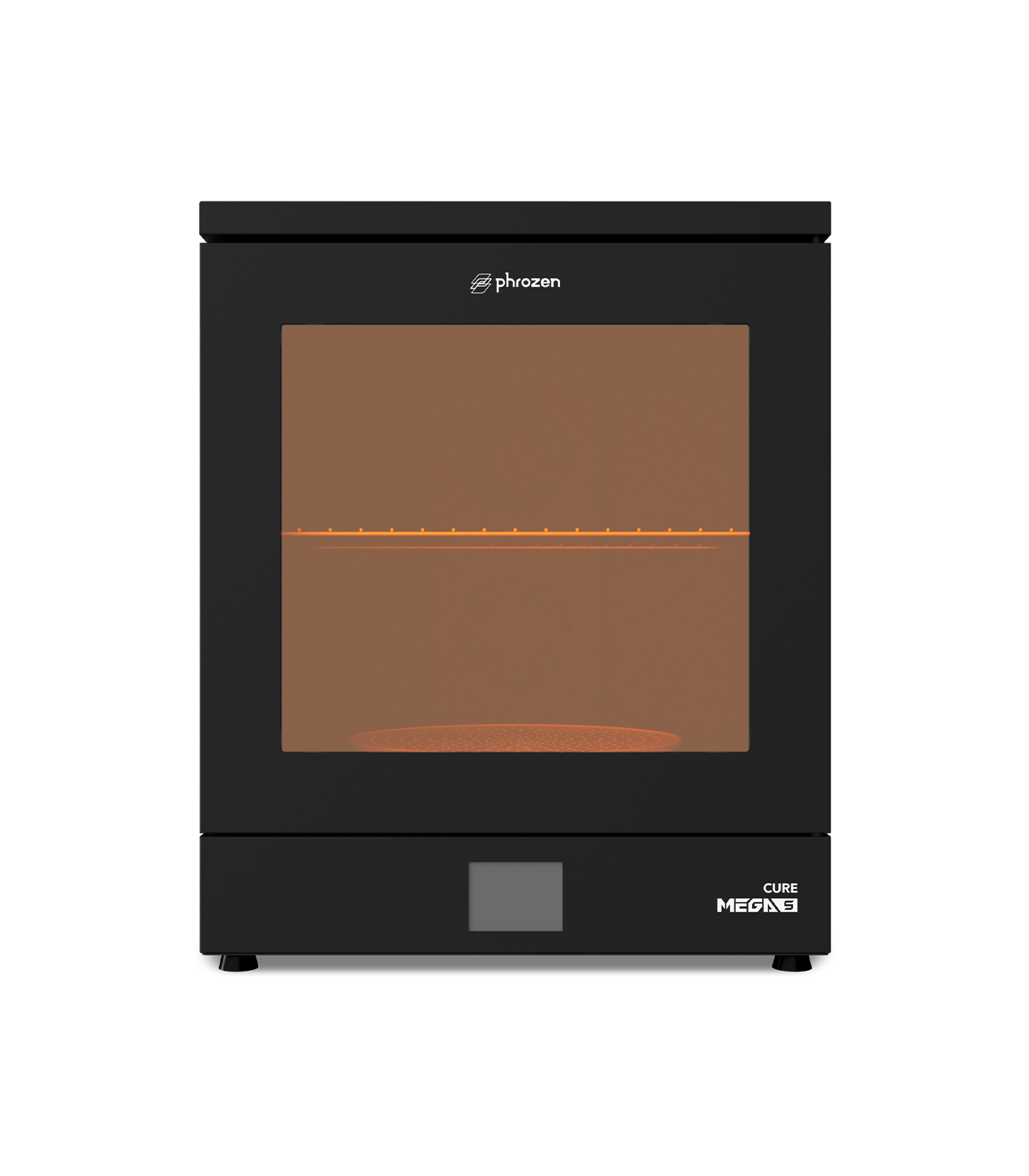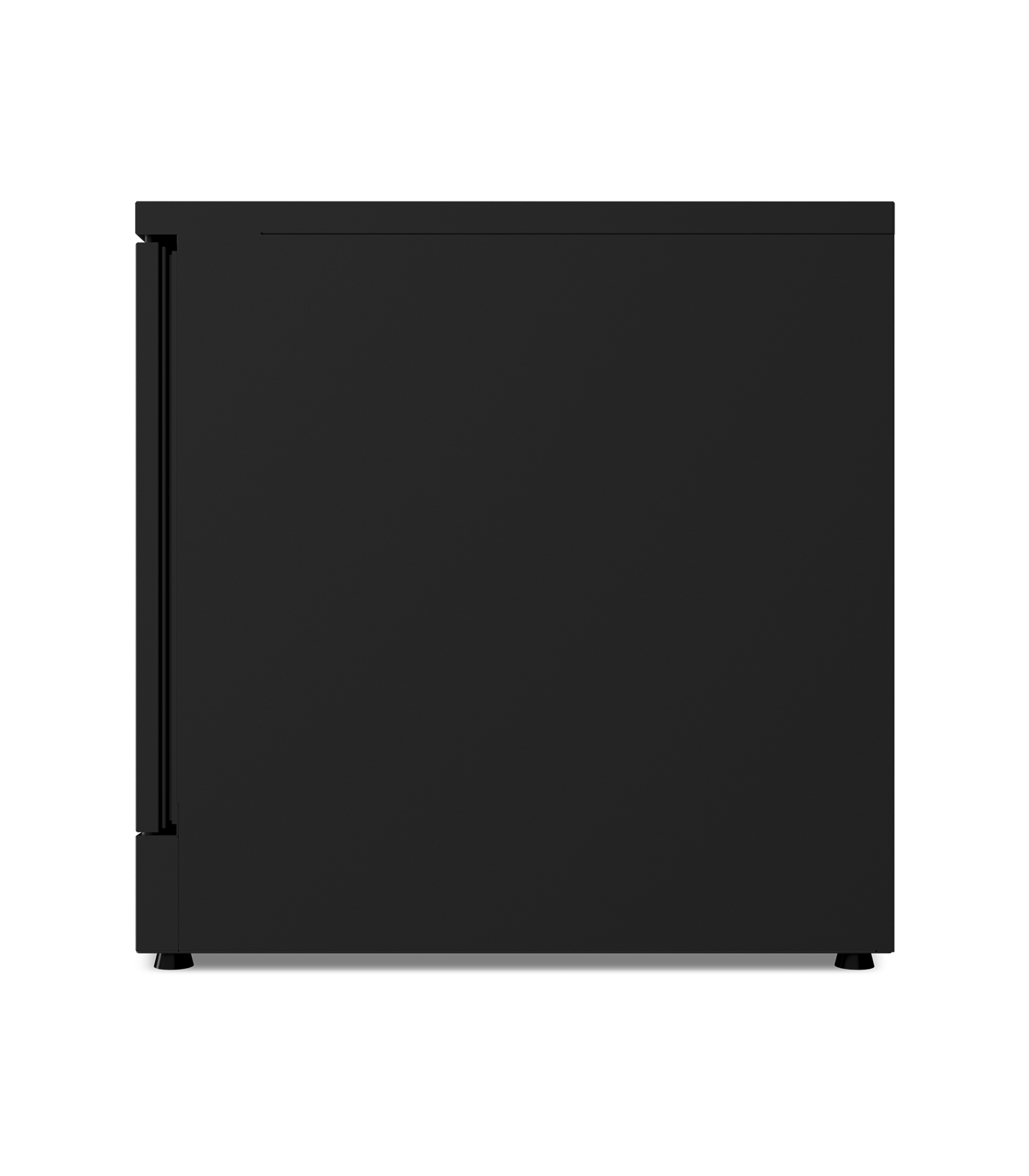 Phrozen Cure Mega S
US: Shipping included
EU/UK: Shipping+VAT included
Estimated time of departure: Late October.
As the new and bigger generation of curing stations, the Phrozen Cure Mega S is designed for high productivity and large production needs. Capable of continuous drying and curing, the Cure Mega S makes post-curing super convenient no matter how big your models are.
Benefits
Dry and cure settings, choose to dry, cure, or dry and cure your models consecutively.

360° transparent turntable to ensure your models are cured evenly.

Dual high-speed fans are designed with 1700 rotations per minute for maximum drying power.

Comes with a built-in interior light to easily see your models' curing state.

Adjust your needs to dry and cure big models or lots of smaller ones with a detachable rack.
Specs
Machine Size:

L39.5 x W37.5 x H48.6 cm

Max Curing Size:

Ø25 x 30 cm

    
Fan RPM:

1700 rotations/min

 
Curing Time:

1–120 min (

Recommended time: Maximum 30 minutes/cycle)

Input Voltage:

AC100-240V ; 50-60Hz

Machine Weight:

15 kg

Max Power Consumption:

70 W

LED Specification:

405 nm
Precautions
Disconnect the power cable before performing maintenance.

DO NOT open the acrylic door while the machine is running.

Avoid direct contact with uncured resin and other cleaning fluid to prevent allergies.

In case of contact with uncured resin and alcohol (cleaning fluid), please rinse immediately with plenty of water.
Shipping 
For US, EU*, and UK customers, price listed are with shipping and VAT included. For other countries/regions, the price listed doesn't include shipping and taxes. Shipping will be charged at checkout, while taxes might be calculated and charged together at checkout or collected later when your products are clearing through customs.

Please note that we WILL NOT be providing a refund if a customer refuses to collect (or returns) their product(s) due to customs fees/duties and/or other related costs.

Customers will be responsible for customs clearance in all countries except Thailand and Brazil, as we will charge you in advance and pay on your behalf for any duties and taxes that are due on products purchased.

Please note that the shipping cost will vary from country to country; for the exact cost, please view our check-out page.

For more information, please refer to our Shipping Policy page.
*EU: Germany, France, Belgium, Netherlands, Luxembourg, Italy, Spain, Poland, Portugal, Denmark, Hungary, Slovakia, Czech, and Ireland.

Return & Warranty
According to the Consumer Protection Act, you have the option to request a refund within a period of 13 days. However, please note that the refund does not cover the shipping fees and tax/VAT charges. To initiate the refund process, you need to submit a request to the Phrozen Support Center within this 13-day timeframe. It is important to ensure that the product is returned in its original condition, and the entire batch order must be sent back. For more details, please refer to our Refund Policy page.
All products purchased from the official website of Phrozen are warranted under different terms. Phrozen offers a one-year warranty for all our products except consumables and components; this includes the LCD screen, FEP film, and the ACF Film. LCD screens for the  Sonic Mini 8K S, Sonic Mighty 8K, Sonic Mini 8K, Sonic Mega 8K, Sonic Mega 8K S, Sonic Mini 4K, and Sonic 4K are covered under a 3-month warranty. For more details, please refer to our Warranty page.
*Kind reminder: We would suggest pairing our printers with Phrozen's resins to prevent surface paint damage. If a problem occurs, please feel free to contact our support team.